Paul K. Williams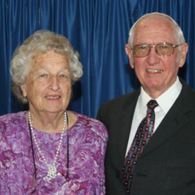 Paul Keaster Williams was born August 12, 1930 in Pomona, California and reared in San Bernardino, 60 miles east of Los Angeles. His mother was a faithful Christian. His father had his faith destroyed while studying at Pomona College, Claremont, but he was a good moral man and a good father. He was a school teacher.
Paul was baptized into Christ when he was eleven years old. Before he finished high school in 1947 he decided to become a preacher of the gospel. He attended San Bernardino Valley College for one year, then spent one year in the army at Ft. Lewis, near Tacoma, Washington.
When he was discharged in August 1949, his high school sweetheart, Helen Orendorff, journeyed to Tacoma where they were married. They then drove to Abilene, Texas where Paul spent three years studying Bible with a Greek minor at Abilene Christian College, graduating in 1952. While there he became very interested in preaching the gospel in South Africa.
From 1952 to 1968 he preached for churches of Christ in Oregon, Ohio and Indiana. In January 1968, Paul, Helen and their five sons went to South Africa. He has been preaching there until the present (2013).
Mr. Williams enjoys writing and has regularly written articles for religious journals. He "re-wrote in simple English" Brian Vinson's commentary on Romans, which is available at religious book stores. He has written a number of tracts, including one on the head covering in 1953. He has conducted debates with a Mormon, Seventh Day Adventists, institutional preachers of the church of Christ, and a Muslim.
For the past 29 years he and his wife have lived in Eshowe, South Africa, where he preaches mostly among the Zulu people. They have five sons, five daughters-in-law, fifteen grandchildren, four granddaughters-in-law, and twelve great grandchildren. All live in America, except one grandson that now lives with him in Eshowe.